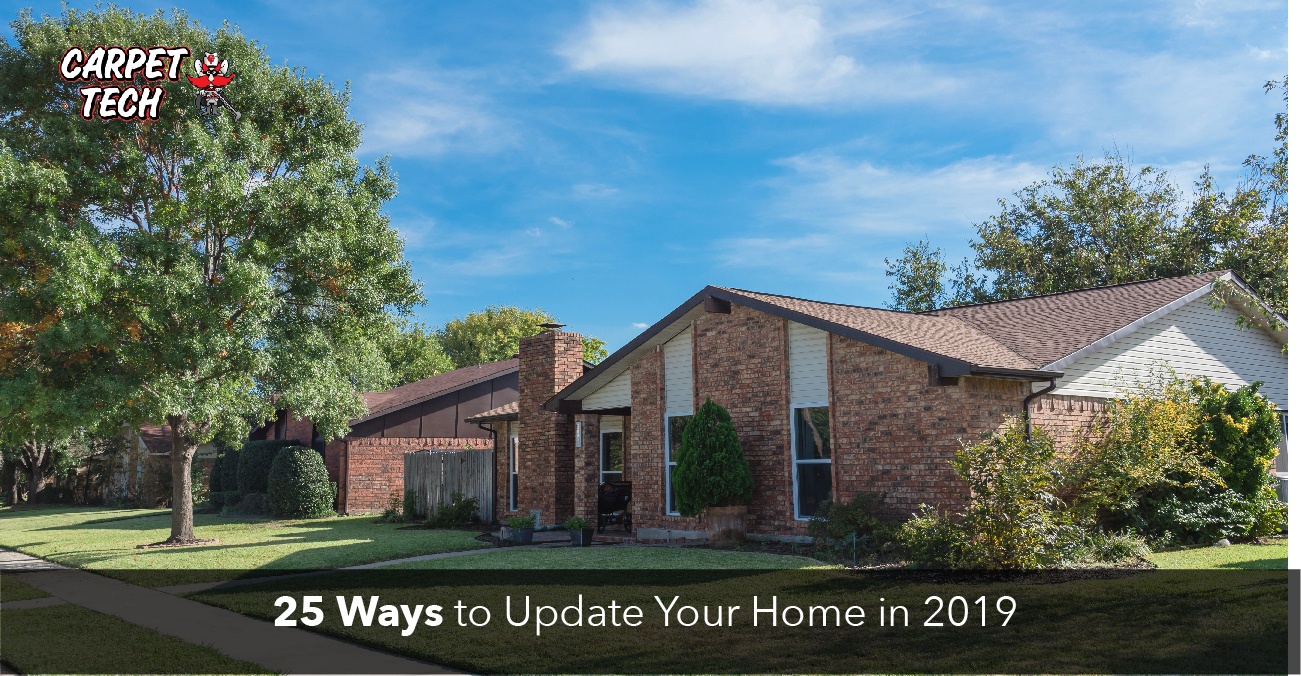 In 2019, Carpet Tech will officially be celebrating 25 years of doing business! We're very proud of everything that we accomplished over the last 25 years and are very excited about everything that is to come in the future. Over the next few months, we'll be celebrating in a number of ways that will highlight a different part of Carpet Tech and help us celebrate everything that makes us what we are today. To kick things off, we're looking at 25 ways that Carpet Tech and CT Construction can help you add a little something new to your home this new year!
1. Brighten things up by cleaning your tile and grout.
2. Lengthen the life of your floor by stretching your carpet.
3. Breath life into your floors with a professional carpet cleaning.
4. Ready for something new? We can help install some new carpet!
5. Take a load off on some professionally cleaned upholstery.
6. Kick your shoes off and enjoy a freshly cleaned rug!
7. Looking for something a little less soft? We can handle your wood flooring installation.
8. Is your existing wood flooring looking a little dull? It might be time for a restoration!
9. Ready for something a little more durable? Install some new Epoxy flooring!
10. Staining your concrete floors can give new life to an already great home feature.
11. Are those features looking a little bleak? Let us polish and clean your concrete floors!
12. Restore and clean the natural stone in your home.
13. Breath better with a professional and thorough air duct cleaning.
14. Get cookin' in the new year with a kitchen remodel.
15. Freshen up by remodeling your bathroom!
16. Clean things up a bit with a laundry room remodel.
17. Take the fun outside with a new deck or patio.
18. Add a fresh coat of paint to your home.
19. Need some extra room? We can help you expand with some new room additions!
20. Do you have the space to go up or down? Convert your attic or basement into a new room.
21. Give your fireplace a makeover.
22. Update your ceilings with beams or popcorn removal.
23. Embrace the bones of your home with stripped down renovation and design.
24. Up your entertaining capabilities with a minibar or dining nook.
25. Give your exterior stone some TLC.
The new year is a perfect time for fresh starts, new beginnings, and healthy resolutions. By trying one of these 25 upgrades, you can be sure to kick off your 2019 in space that promotes positivity, productivity, and comfortability!
Need a hand with a project? We're excited about what lies in store for our 25th year of doing business and we'd love for you to be a part of it! Visit Carpet Tech or CT Construction for a FREE consultation!

---